Thai Draughts
---
Origin
There are many draughts games, all of them with their own rules. Here are explained only the specific aspects of the this game. You can learn the rules that are common to all the draughts games at the Draughts games common characteristics and rules page.
This variant is very similar to classic draughts.
Board and pieces
8x8 draughtboard with lower right white corner. Each player starts with 8 men (white and black) placed on the first 3 rows. Dark squares are used.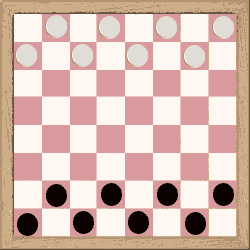 Men´s moves
They move and capture only diagonally forwards.
Kings moves
They move and capture diagonally forwards and backwards. It is a flying king, so it has the chance to jump over empty squares, but with this limit: when capturing, it must land just on the next square beyond the captured opponent piece.
Particularities about the end of the game
The game ends in a draw after doing 25 king moves in a row without advancing any man nor doing any capture.
Play now
Play online with some other players